ICCH PROJECT

As a Japanese company, we participate in the national ICCH Project, which involves the Korean cosmetic industry.
[Japan] × [Korea] => [World-wide] The Korean cosmetic industry has developed remarkably. With worldwide and national commitment strategies behind the industry, Korea intends to be the world's largest cosmetic country by fostering the cosmetic industry through an export strategy that creates high added value. One of the strategies is a national project to create an international hub for the world cosmetic industry by utilizing 35 national research institutes and university research institutes located in the area of Gyeongbuk in Korea. We have been highly rated for our planning and total production abilities and are participating in the project as the only Japanese company.

The companies participating in the ICCH Project can leverage cutting-edge technology and research from government agencies and national/university research institutes for productization to develop better products without huge costs, which cannot be incurred by one company. The advantage is overwhelming for the cosmetic market to be able to launch a "better product at a more reasonable price" into the Asian and world markets.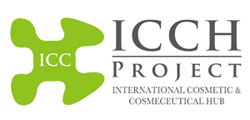 ICCH PROJECT <<ICCH>>
IInternational Cosmetic Cosmeceutical Hub Cosmeceutical(Coined word)= Cosmetic + Pharmaceutical
*The production of cosmetics with added value is expressed.